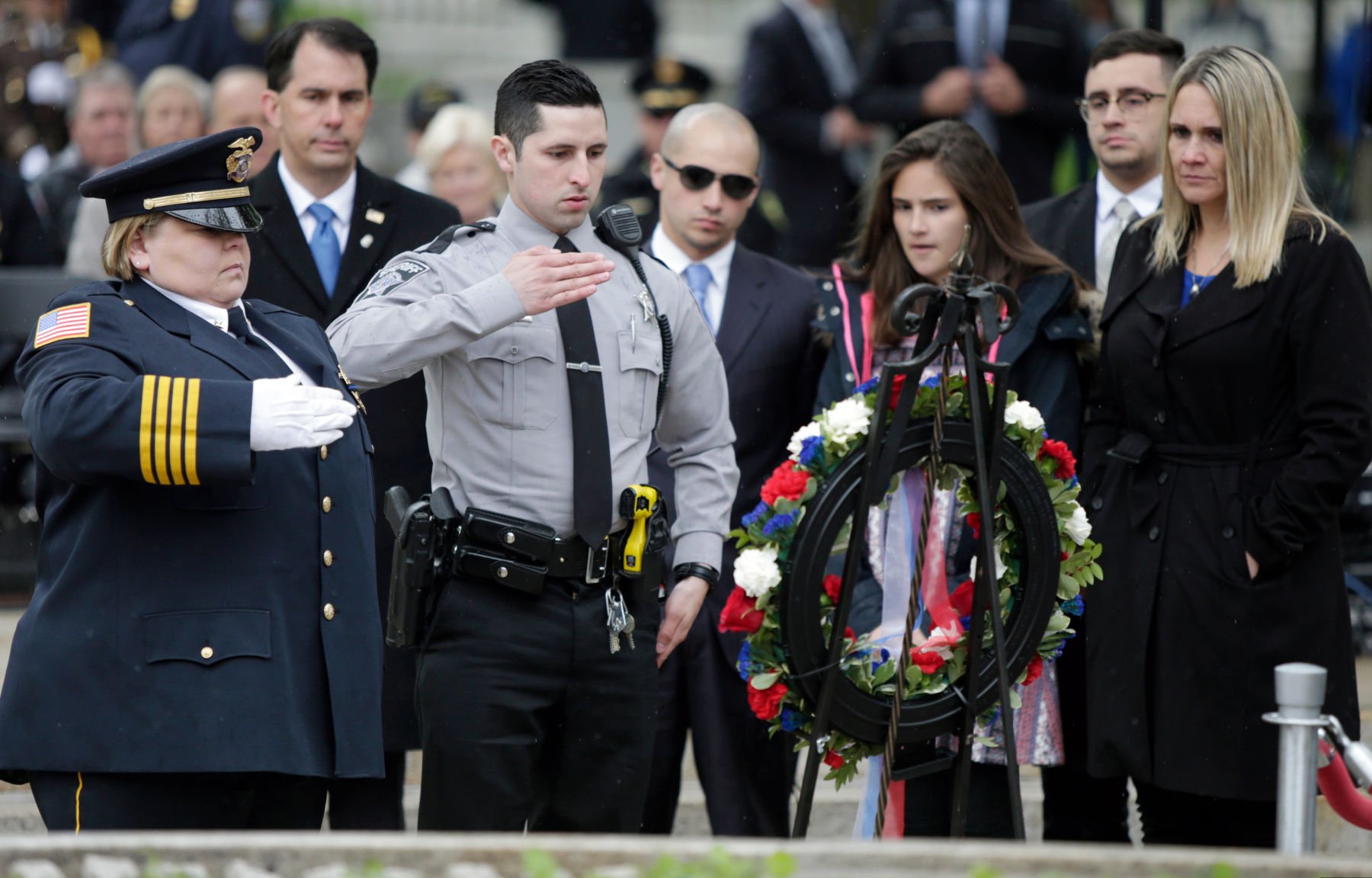 Each year around this time, we recognize National Police Week, in order to honor the men and women who paid the ultimate sacrifice while protecting their communities.
New Hampshire State Police salute during the singing of the National Anthem during the N.H. Law Enforcement Officers 25th anniversary Memorial ceremony in Concord on Friday, May 19, 2017.
Erie County Commissioner of Central Police Services James Jancewicz (center, at podium) is flanked by law enforcement officials Thursday morning during an interfaith Law Enforcement Memorial Service at the Public Safety Campus in Buffalo.
Today, Congresswoman Claudia Tenney (NY-22) announced the passage of five bills that will provide our law enforcement officers with the resources necessary to carry out their duties effectively while honoring the sacrifices they make to keep us safe.
Almost 800 law enforcement officers have died in the line of duty in Oklahoma, including before and after statehood.
"We will never forget your officers and the incredible service your family has made".
Submitted photo 5K runners show support for law enforcement officers during the Officers Down 5k run/walk Saturday.
In 2017, two officers have been killed in the line of duty.
Shepard spoke about bills still being debated in the legislature that would benefit police officers, including one that would allow them to retire sooner.
On May 7, the Navajo Nation Law Enforcement Wall of Honor was celebrated at Window Rock Park in observance of the 2017 National Police Week.
To date, 14 Navajo Police officers died in the line of duty: Hoskie Thompson, Burton Begay, Loren Whitehat, Andy Begay, Roy Lee Stanley, Hoskie Gene Jr., Samuel Rehouse, Ester Todacheene, Winsonfred Filfred, Darrell C. Curley, Enest Montoya, Alex Yazzie, Leander Frank, and Houston J. Largo.