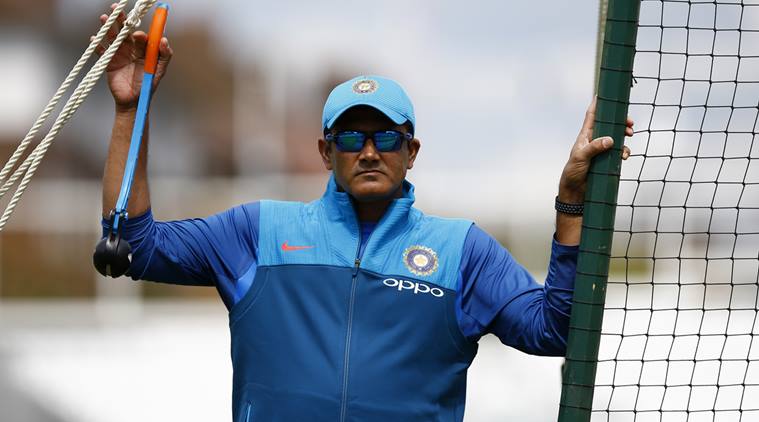 The Committee of Administrators (CoA) on Monday asked Anil Kumble to continue as coach of the Indian team for the forthcoming one-day series in the West Indies. The fact that Kumble has been given a temporary extension means the CAC is simply buying time. India have also responded well in limited-overs cricket in his tenure and are now in the last-four of the Champions Trophy in England. Rai said the BCCI would check whether Kumble was "happy" to continue until the West Indies tour, which starts on June 23.
There have been lot speculations over the appointment of new Indian cricket team head coach after the news broke out that BCCI were not extending current coach Anil Kumble's contract which is set to expire after the ongoing Champions Trophy. "I have spoken to both of them (Kohli and Kumble) and neither of them have confirmed what has come out", he said. "The coach selection matter is being taken care of by the CAC, which selected Anil Kumble last year for one year".
Kumble's future as the coach has been shrouded in mystery, with various media reports suggesting a rift between him and Team India skipper Virat Kohli.
It is understood that even the high-profile Cricket Advisory Committee (CAC), comprising Sachin Tendulkar, Sourav Ganguly and VVS Laxman, is in favour of retaining their longtime former India teammate.
Sources told TOI that the three legendary stars, members of the board's cricket advisory committee (CAC), have asked both Kohli and Kumble to soften their stands and bury their differences to ensure a congenial atmosphere in the Indian dressing room.
A decision of new coach is likely to be made next month.
The three-member committee met June 8 at a five-star facility in London and had a almost two-hour discussion on the issue but then informed BCCI CEO Rahul Johri that they would need more time.
In a letter sent to all the state associations, BCCI acting president CK Khanna said the meeting, which will take place in Mumbai, will have in its seven-point agenda the outcome of the meeting with PCB. Kumble re-applied despite being told he would get a direct entry into the pool.