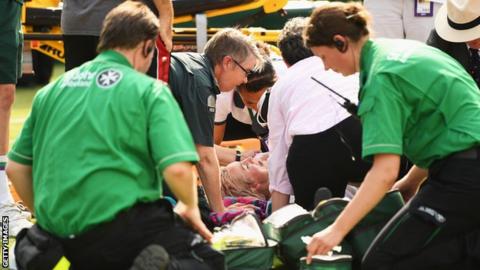 "That's when you heard me drop the F-bomb, but it was that painful - the worst injury I have had in my career".
Among the athletes who have dislocated their knees is Minnesota Vikings quarterback Teddy Bridgewater, who suffered his injury in August 2016 (he also tore his anterior cruciate ligament) and National Basketball Association center Andrew Bynum, who went down in January 2008 while playing for the Los Angeles Lakers and missed the remainder of the season and playoffs. "I've never seen anything like this, probably except in the movies".
She said: "I am going to be heading to NYC to see more doctors to see what's really going on".
'I have been getting a lot of messages and really appreciate the support, ' she said, holding back tears. "She was shouting "Sorana, help me" and all I could say was "I'm here, be strong", she further added. I'm not sure how the other courts are, if they're damaged that much as Court 18. "You wouldn't wish that on your worst enemy".
In the Facebook Live video, an extremely emotional Mattek-Sands said, "It's been an emotional and painful roller coaster the last couple of days".
The Woman's Tennis Association said Mattek-Sands had suffered an acute knee injury and had been taken straight to hospital.
Mattek-Sands' opponent Sorana Cirstea yesterday questioned why she was left writhing on the ground for so long - despite a Wimbledon statement insisting: "The first response to Court 17 was within 1 minute, by a qualified ambulance technician".
Cirstea, who had dropped the first set 4-6 but took the second 7-6 (7/4), was declared the victor of the second round match.
"She was in shock".
Cirstea was critical about how long it took for assistance to arrive, saying: "It took a long time for the stretcher". It felt like forever. What if it was a heart attack?
"I took a look at my knee and something was wrong".
The extent of Mattek-Sands' injury, which came in the third set's opening game, was not immediately known. "I guess the climate doesn't help, the fact that it's too nice, too hot, too sunny, makes everything very dry".
Wimbledon courts are no stranger to injury controversies.