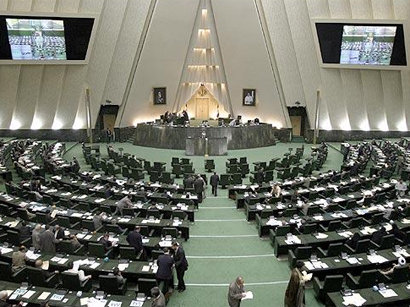 The Iranian parliament has approved a bill to counter "terrorist and adventurous actions" of the USA in the region.
In response the country's parliament has now given initial approval to a bill to increase spending on their missile programme.
A total of 240 lawmakers voted for the bill, out of the 244 parliamentarians present.
In response to the launch, President Trump signed a bill outlining new sanctions against several Iranian groups, freezing funds and outlawing USA citizens from doing businesses with the targets.
Chants of "Death to America" broke out as the bill was passed, according to the country's state broadcaster IRIB.
Iran's parliament voted on August 13 to allocate $520 million to develop its missile programme to fight Washington's "adventurism" and sanctions, and to boost the foreign operations of the country's Revolutionary Guards.
Iran denies its missile programme violates a United Nations resolution that endorsed Tehran's 2015 nuclear deal with world powers and calls upon the Islamic Republic not to conduct activities related to ballistic missiles created to deliver nuclear weapons.
The Parliament ratified the motion prepared by the National Security and Foreign Policy Commission in July.
"The bill has very wisely tried not to violate the JCPOA [Joint Comprehensive Plan of Action] and also give no chance to the other party to manipulate it", Deputy Foreign Minister Abbas Araqchi said, as cited by IRNA news agency.
The bill cites "hostile" USA policies against Iran, and American "adventurism in the region aimed at creating divisions", Tasnim reported.
The agreement saw crippling economic sanctions on Iran lifted in return for the country restricting its sensitive nuclear activities.
Sanctions against Iran is mainly in response to Tehran's growing missile programme.
To counter U.S. economic sanctions, the government has been ordered to provide a comprehensive plan on expanding economic cooperation with world countries, especially Iran's neighbors and friends as well as the countries which have likewise been subject to Washington's embargoes.