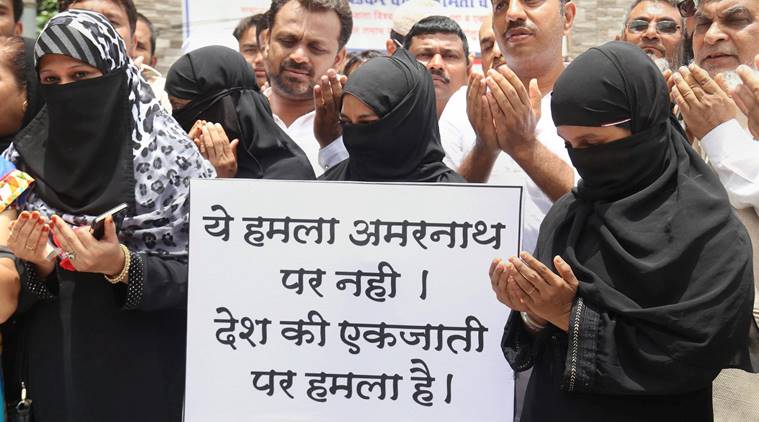 The Jammu & Kashmir Police today arrested three persons who acted as co-conspirators in the July 10 attack on Amarnath pilgrims in south Kashmir's Anantnag district with help of its Special Investigation Team (SIT).
"Accused people who provided them logistics to carry out their plans in the state and work as their guides have been identified, " IGP Kashmir added.
Claiming that police have cracked the case in less than a month, Khan said it was "purely a terrorist attack" aimed at creating fear.
The fighting began after government forces raided a cluster of homes on a tip that suspected Lashkar-e-Taiba (LeT) militants were hiding in India-held Kashmir's northwestern Sopore area, said police Inspector-General Muneer Ahmed Khan.
He said the attack was carried out by four LeT militants, including a local and three Pakistani nationals.
On July 10, terrorists opened fire at the bus that was carrying a group of pilgrims returning from the Amarnath Yatra.
The Police identified Abu Ismail of LeT as the mastermind of the attack. This Good news of arresting three militants was given on Sunday by IGP Kashmir Munir Khan when he was addressing the Media.
The bloodshed comes just days after the death of Abu Dujana, the commander of the Pakistan-based Lashkar-e-Toiba militant group, was killed by Indian security forces.
The Kashmir police chief said they were close to nabbing the four Lashkar militants. "They had planned for a CRPF vehicle or a pilgrim bus".
The officer said that the police are closing in on main accused and will neutralise them soon. Khan said the militants used the code word "Bilal" for a CRPF vehicle and "Shaukat" for a vehicle belonging to the Amarnath pilgrims.
"We have taken the decision to suspend train service in the Kashmir valley after receiving an advisory from the administration and police for security reasons, " he said.