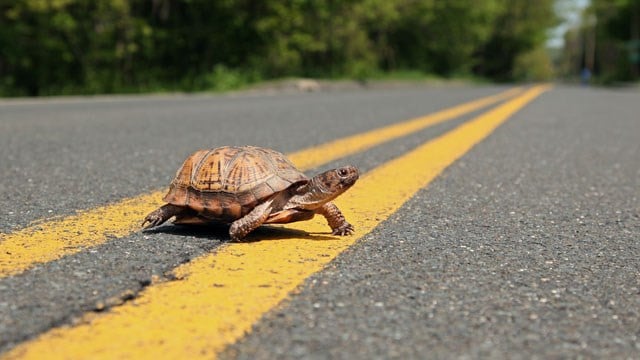 These tiny turtles carry salmonella on their shells, on their bodies, and in their droppings, so any contact with any turtle should be followed by washing hands with soap.
HARTFORD, Conn. (AP) - The U.S. Centers for Disease Control and Prevention says three people in CT are among dozens nationwide who have contracted a salmonella infection linked to turtles. The outbreak started on March 1, 2017, and went on August 3, 2017.
The mini reptiles have caused 37 people across 13 states to be infected with the outbreak strain of Salmonella Agbeni since March. There have been no deaths, but 16 people were taken to the hospital, CDC officials said. Twelve of the sick were children ages 5 or younger.
According to CDC officials, there were epidemiologic and laboratory findings that linked "the human SalmonellaAgbeni infections to contact with turtles or their environments, such as water from a turtle habitat". Some claimed that they had purchased the turtle from a street vendor or flea market while some received the animal as gift.
The Centers for Disease Control and Prevention advises against turtles as pets because they can be linked to Salmonella infections.
Warnings about real live turtles giving salmonella to the people who handle them have also been around for decades, but people keep getting sick, and that's not cool.
On Tuesday, the agency said 13 states are now investigating outbreaks of salmonella linked to contact with the hard-shelled reptiles. Between 2011 and 2013, 473 people were sickened by turtles in pretty much every state. Humans usually get the common symptoms of salmonella infection: abdominal cramps, fever and diarrhea. The agency said this current outbreak is likely to continue because so many people are unaware of health hazards related to contact with the animals. The average of age of those cases was 4, but the infections affected people from 1 to 94 years old.
Children are especially at risk, because, as The Post's Dina ElBoghdady wrote in 2012, "kids couldn't resist kissing the toylike reptiles or placing them in their mouths, sometimes contaminating themselves with the salmonella commonly found on turtles". Most people feel better between five and seven days of being sick. That's why since 1975 the FDA has banned the sale of small pet turtles.