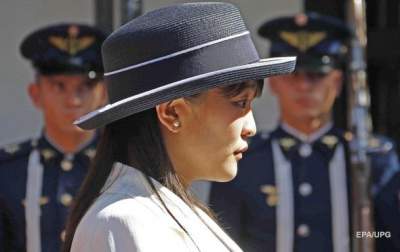 Princess Mako of Akishino is the eldest granddaughter of Emperor Akihito from his second son, Prince Akishino.
Mako and fiancé Kei Komuro, both 25, confirmed the news at a press conference on Sunday after news of the planned engagement was first reported in May.
A Japanese princess is giving up her royal status to marry a commoner she fell in love with because of his "bright smiles like the sun". "It would be nice to have a warm and comfortable household with Mr. Komuro, so that we can make a family full of smiles".
The two first met in 2012 at a student exchange program information session held in a classroom at International Christian University in the Tokyo suburb of Mitaka, where they were both students in the same year. The groom to the pricess will be 25-year-old Kei Komuro, a law firm employee.
Japan's Princess Mako is set to lose her royal status after revealing she will marry a commoner. However, the formal announcement of Princess Mako's engagement is expected to reignite discussion of the matter-if only to prevent the end of the imperial line. Kei reportedly proposed to Mako back in 2013, but the princess's grandfather, Emperor Akihito, did not officially approve the engagement until September 3.
The announcement had originally been planned for July but the couple chose to postpone it out of consideration for a southern region hit by heavy rains and flooding in the month. They announcement was originally planned for July, but they made a decision to postpone it following the heavy rains and flooding in northern Kyushu that month.
As for marrying an imperial family member, Komuro said, "I recognize seriously that I bear a grave responsibility".
Princess Mako's wedding is expected to take place next year, according to Japan's public broadcaster NHK. Japan's Imperiale family was started with wartime emperor Hirohito (1901-1989) and Empress Nagako (1903-2000).
When the princess, in a fetching mint green dress, was asked about what her fiance means to her, she described Komuro as a person who warmly encourages her.
Prince Hisahito is now third in line to the throne after his uncle, Crown Prince Naruhito, and his father Prince Akishino.