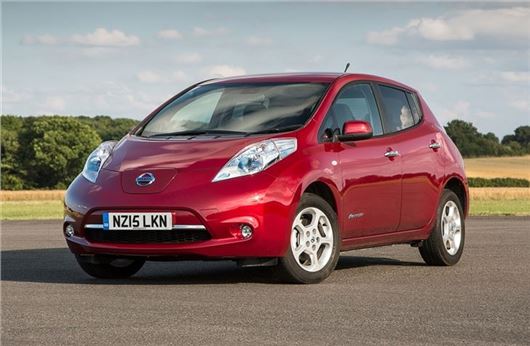 They also come amid the threat of renewed action by governments on older, polluting cars - especially following the VW diesel emissions scandal.
While cars traded in under the scheme will not necessarily be scrapped, customers will still be offered incentives of up to £5,000 off a new Nissan model, and savings of up to £2,000 to buy a used all-electric Leaf 24kWh.
A similar trade-in scheme exists in Germany.
It is an important move for Volkswagen especially, which has suffered since 2015's "Dieselgate", a scandal in which millions of VW vehicles were proven to have cheated emissions tests.
In July, European antitrust officials confirmed they were looking into claims that Germany's major carmakers may have been operating a cartel since the 1990s, colluding on everything from vehicle development to diesel emissions systems.
VW's German scheme offered a discount of up to 10,000 euros (£9,000) to trade in diesel vehicles.
Volkswagen's electric vehicle and plug-in hybrid models are also included in the deal.
"We've seen a bit of a drop in the United Kingdom vehicle market this year after years of really accelerated growth".
For the electric cars in the firm's range, such as the eGolf, when combined with other grants on offer, potential buyers could get as much as €14,000 off the price.
However, he said it would also be important to VW that its United Kingdom competitors have similar schemes running, and VW will probably have pitched their discounts at that level in order to compete. The UK offer builds on VW's scrappage scheme now in place in Germany.
There are now six manufacturers in the United Kingdom offering drivers a discount on a new vehicle if they trade in an older, more polluting one but, according to new research the offers don't go far enough. Vehicles part-exchanged through the scheme will be permanently destroyed.
He added that by matching rival offerings VW will probably keep its advantage over its opposition. The scrappage scheme runs from 1 September 2017 to 31 December 2017 and is open to any vehicle more than seven years old.
Customers can get a discount of £2,000 off models including Aygo, Prius and Hilux, and £4,000 off a Land Cruiser.
To get between £2,000 and £7,000 off, depending on the model, the owner must have owned their vehicle for at least 90 days.
Paul Van der Burgh, Toyota GB president and managing director, said: "Our scrappage scheme is a win-win solution".