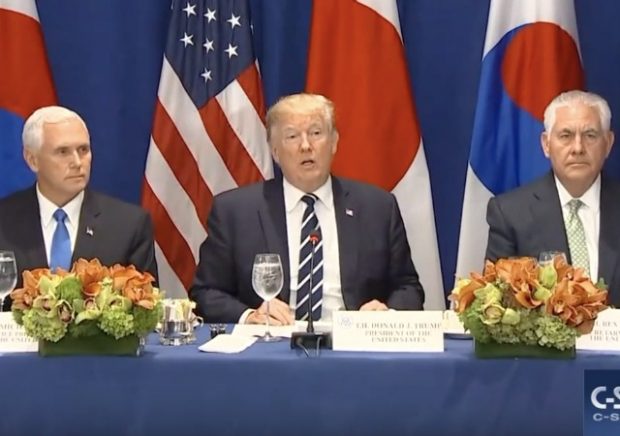 President Donald Trump was making "a joke" when he challenged Secretary of State Rex Tillerson to an IQ test in an interview with Forbes, White House press secretary Sarah Huckabee Sanders said Tuesday afternoon.
If you didn't get enough of the Trump-Huckabee interview, Colbert started off the show by splicing himself in for Huckabee and asking his own questions.
President Donald Trump claimed that he didn't undercut Secretary of State Rex Tillerson by saying that the two leaders should compare their IQ scores. "I don't believe in undercutting people", Trump said.
Trump's tense relationship with Tillerson burst into public view last week. The White House has been finalizing an executive order that would expand health plans offered by associations to allow individuals to pool together and buy insurance outside their states.
Many were policies Democrats have said explicitly are off the table and threaten to derail ongoing negotiations over legislation protecting young immigrants known as "Dreamers".
Trump added in the Forbes interview that Tillerson was "wasting his time" when Tillerson appeared to be reopening talks with North Korea.
Tillerson would find it beneath both his personal dignity and the dignity of the presidency - but he'd sign on too, as it'd be a ideal opportunity for him to exit the administration.
Tillerson delivered a statement on Wednesday affirming his support for Trump and desire to stay in the role, following an NBC report that he called Trump a "moron".
NBC News said Tillerson considered resigning over foreign policy disagreements with Trump, but the US leader dismissed the report, calling it "Fake News put out by @NBCNews". The president said the policy is "both a carrot and a stick".
Trump said Tuesday during a meeting with former Secretary of State Henry Kissinger that he didn't think he undercut Tillerson with his comment about his intelligence.
Still, last week Trump told reporters he has "total confidence" in his secretary of state. In his tweet, Trump charged that Democrats "don't care about safety for U.S.A".
Trump has called the deal an "embarrassment" and threatened to decertify it before an October 15 deadline. "But it is perhaps even more so - if you leave, it's going to be very tough for you to think that you're going to be able to sell your product back into our country", Trump said of his economic-development bill.