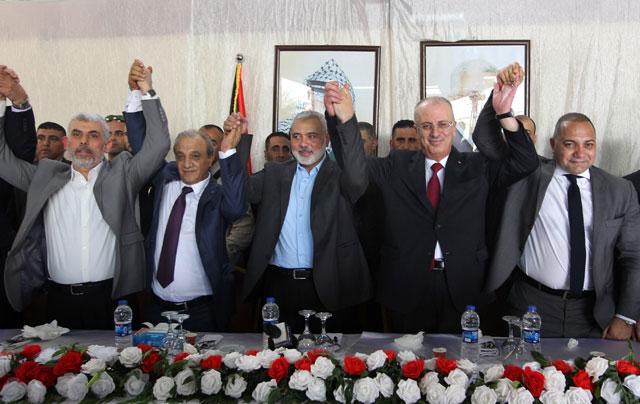 Still another significant indication of reconciliation played out between the Fatah and Hamas Palestinian factions on Tuesday when Palestinian Authority Prime Minister Rami Hamdallah convened the Palestinian National Consensus Government in Gaza City - the first time it convened at all in three years.
He met with the leaders of Hamas Ismail Haniya, as well with the head of Egyptian intelligence, while also convening his cabinet in Gaza for the first time in almost three years.
Yet, most analysts expect the reconciliation process to fail, as previous attempts have. Both Israel and Egypt maintain a partial blockade of Gaza, citing security concerns.
They suffer from desperate shortages of electricity and high unemployment.
Netanyahu's foreign minister at the time, Avigdor Liberman, concurred, saying that Abbas had to decide whether he wanted to make peace with Israel or with Hamas. But US special envoy Jason Greenblatt also said any Palestinian government "must unambiguously and explicitly commit to nonviolence, recognition of the State of Israel, acceptance of previous agreements and obligations between the parties and peaceful negotiations".
Hamas, which is considered a terrorist organization by the USA, the European Union and Israel, agreed to cede control of Gaza as funds from overseas dried up and Abbas imposed sanctions that reduced government salaries and cut electricity to three hours a day.
The Palestinian cabinet met in Gaza for the first time since 2014 Tuesday, as Israel warned it would reject any reconciliation deal between the Palestinian factions unless Hamas disarm. "It is a completely different dynamic on the ground", she told AFP.
If this week's visit was about symbolism, next week the details begin. On the evening prior to the festive meeting, news broadcasters in Gaza and the West Bank announced that this would be the last night of division, as both sides had chosen to restore the unity of the Palestinian people for the sake of the national interest.
A key stumbling block is control of security in Gaza. In an interview with the Egyptian TV station CBC, Abbas stressed on disarmament: "Everything must be in the hands of the Palestinian Authority, it must be the one to control the crossing points (in and out of Gaza)".
The Latest on Palestinian efforts to reconcile Hamas, and Fatah, which have been fiercely divided since the Islamic militant group drove President Mahmoud Abbas' party from Gaza a decade ago.
Abbas wants his government to regain full control before reversing the measures, but Hamas wants them stopped immediately. Hamas with its new charter has stated its willingness to be a part of the Palestine Liberation Organisation (PLO) to fight for liberation by accepting the statehood with 1967 borders and supporting the non-violent resistance with the right of recourse to armed resistance in self-defence.
Hamas does not and has not renounced violence. The delegation included PA Cabinet members, advisers, officials and security teams.