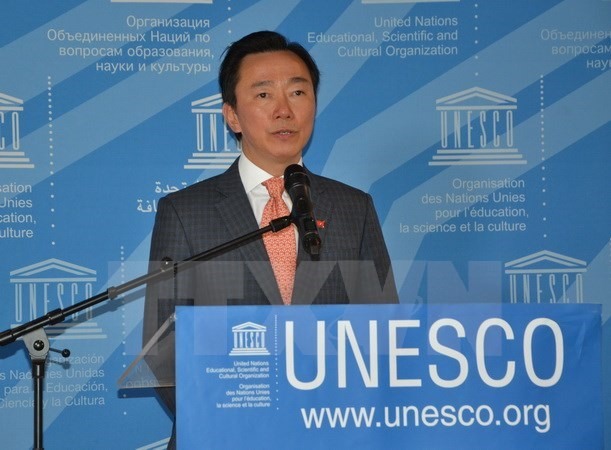 Today the Trump administration announced the United States will leave UNESCO, the United Nations development agency, over the organization's alleged "anti-Israel bias". The decision "reflects USA concerns with mounting arrears" at the United Nations entity, as well as what she called "continuing anti-Israel bias".
The withdraw becomes official on December 31, 2018, after which the United States will remain involved as a nonmember observer state.
She paid tribute to what she said had been a meaningful relationship between UNESCO and the USA, saying: "since 2011, we have deepened the partnership between the United States and UNESCO, which has never been so meaningful". The organization is known for its World Heritage program that protects cultural sites across the globe.
And past year, Israel suspended cooperation with it after the agency adopted a controversial resolution which made no reference to Jewish ties to a key holy site in Jerusalem.
The UN General Assembly President Miroslav Lajčák is also "concerned that the decision by the United States to withdraw could have adverse impacts upon the important work of UNESCO", according to a statement from his spokesperson.
"The universal nature of UNESCO's activities is important in protecting peace and ensuring global security in the face of violence and hatred", Bokova said in her statement. Permanent Representative to the UN Nikki Haley has repeatedly denounced these actions, and said the US was "evaluating" whether or not it should continue as a member of the organization.
Many saw the vote to include Palestine as evidence of long-running, ingrained anti-Israel bias within the United Nations, where Israel and its allies are far outnumbered by Arab countries and their supporters.
She traced the decades-long United States ties with Unesco, and noted that the Statue of Liberty is among the many World Heritage sites protected by the United Nations agency.
The U.S. told Bokova it intends to stay engaged as a non-member "observer state" on "non-politicized" issues, including the protection of World Heritage sites, advocating for press freedoms and promoting scientific collaboration and education.
For President Trump and for Prime Minister Benjamin Netanyahu of Israel, the recognition of world heritage sites in the Palestinian territories, like Hebron and the Church of the Nativity in Bethlehem, and the 2015 resolution and another in 2016, showed an anti-Israel bias. It referred to the holy site only using Muslim names and prompted angry reactions from Israeli politicians.
"UNESCO is about promoting our ideals and values through culture, education and science", France's United Nations ambassador Francois Delattre told reporters in NY, adding that "we need an America that stays committed to world affairs".