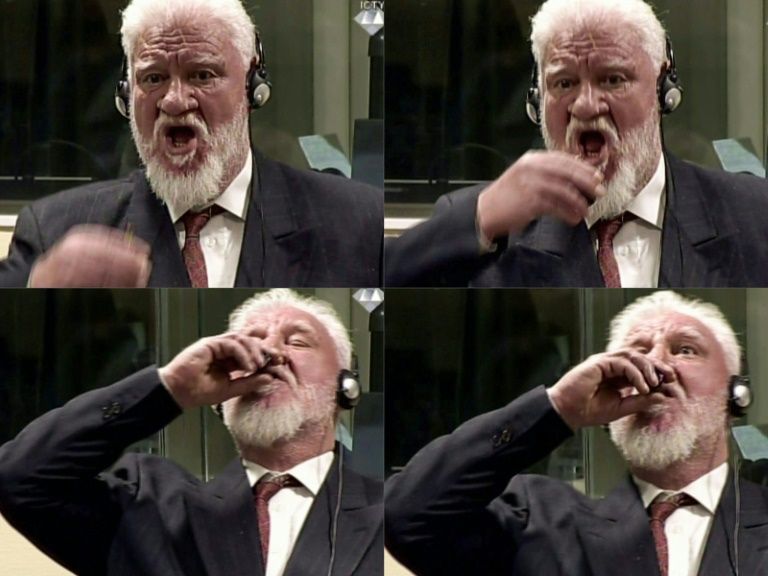 "Slobodan Praljak is not a war criminal".
The war criminal former commander of Bosnian Croat forces died today after gulping back poison when he was told his appeal against his sentence had failed.
War criminal Slobodan Praljak has died after "drinking poison" as judges upheld his 20-year prison sentence at the Hague, according to Croatian state TV.
Croatian state TV reported that President Kolinda Grabar Kitarovic made a decision to cut short an official visit to Iceland and the government was holding an emergency session.
Tribunal spokesman Nenad Golcevski, when asked by AP if he could confirm the death, said: "I have no information to share at this point".
The judge presiding over the appeal quickly shut down the hearing, which took place at The Hague in the Netherlands, as the area was treated as a crime scene.
Slobodan Praljak said on Wednesday he "drank poison" seconds after United Nations appeals judges upheld his 20-year sentence for war crimes against Bosnian Muslims.
Praljak was a former assistant minister of defense of Croatia, and later commander of the main staff of the former Croatian Defense Council, a militia operating in Bosnia.
Agius had overturned some of Praljak's convictions but upheld others and left his sentence unchanged.
Praljak was convicted for involvement in a campaign to drive Muslims out of a would-be Bosnian Croat ministate in Bosnia in the early 1990s. Praljak was taken away from the court by an ambulance.
Praljak's case was one of the last to be decided at a tribunal for ethnic war crimes in the former Yugoslavia, the worst outbreak of violence in Europe since the end of World War II.