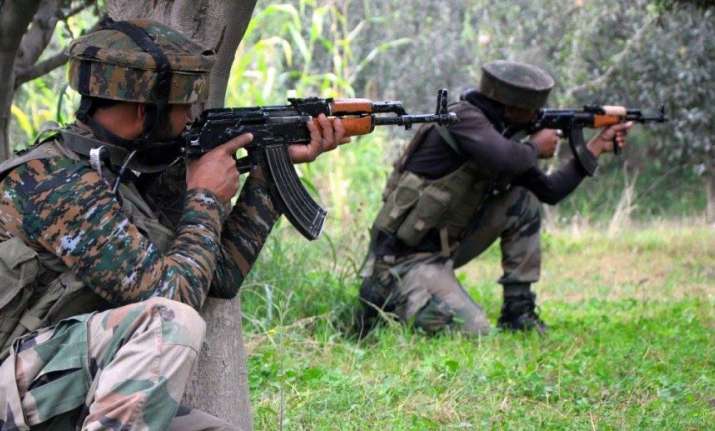 An encounter between the security forces and terrorists raged in Budgam district of Jammu and Kashmir on Thursday.
Four militants were killed in a firefight raging in Futlipora village of Pakharpora area of central district of Budgam in the Valley since Thursday morning, the Army and J&K police officials said.
"'As the security forces closed in on the hiding terrorists, the security forces were fired upon triggering the encounter in which four Jais-e-Mohammad terrorists were killed", said the police official adding that the search operation was still on in the area. He said a combing operation is underway at the site of the gunfight. The police statement said an AK-47 rifle and ammunition was recovered from his possession.
Meanwhile, Jammu Kashmir Police Chief SP Vaid took to Twitter and wrote: "Today by the collective efforts of Jammu Kashmir Police, Indian Army, CRPF and people of Kashmir have led to neutralization of more than 200 militants in the year of 2017 alone".
As the news spread, youth from neighbouring areas tried to march towards the encounter site, but were stopped from doing so by the forces. "This marks a huge landmark for establishing peace and stability in the state of Jammu and Kashmir". A police official said Ahmad was shot in the face and was later shifted to a sub district hospital at Charar-i-Sharief, from where he was moved to Srinagar after his condition deteriorated.
"Fifteen-year-old Sinar Ahmad was injured when the army resorted to aerial firing after the mob attack on the convoy".
The number of killed militants this year is all time high in last seven years. At least 77 forces personnel were also killed in different militancy related incidents this year.