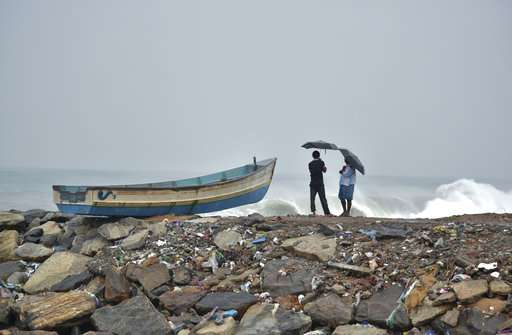 It also advised fishermen to not venture into the sea along and off South Gujarat and north Maharashtra coasts during next 24 hours as the sea condition is expected to be very rough.
As a precautionary measure, the Maharashtra government has declared a holiday for schools and colleges in four districts. NDRF teams are already on standby.
With cyclone Ockhi inching towards Gujarat after creating havoc in parts of Tamil Nadu, Kerala and Lakshadweep, Prime Minister Narendra Modi on Tuesday said he is constantly monitoring the situation in various states.
The city is likely to experience medium to heavy showers throughout the day and the intensity is likely to reduce by 3am. Surat Municipal Corporation has issued a directive saying that the cylone's effect is likely to last from Tuesday evening till Wednesday morning and hence residents should not leave the house unless it is an unavoidable emergency.
The Home Ministry has claimed that Cyclone Ockhi is likely to be less effective in Gujarat.
The latest weather forecast said cyclone Ockhi has moved closer to the southern coast and is about 390 kms from Surat.
Rains driven by Cyclone Ochki have lashed several parts of coastal Konkan in Maharashtra, including Mumbai, throwing normal life out of gear.
BJP president Amit Shah, Rajasthan Chief Minister Vasundhara Raje and Congress leader Raj Babbar were among those whose election rallies slated for Tuesday were cancelled.
The rally of Modi can be again rescheduled on December 7, the party leader said.