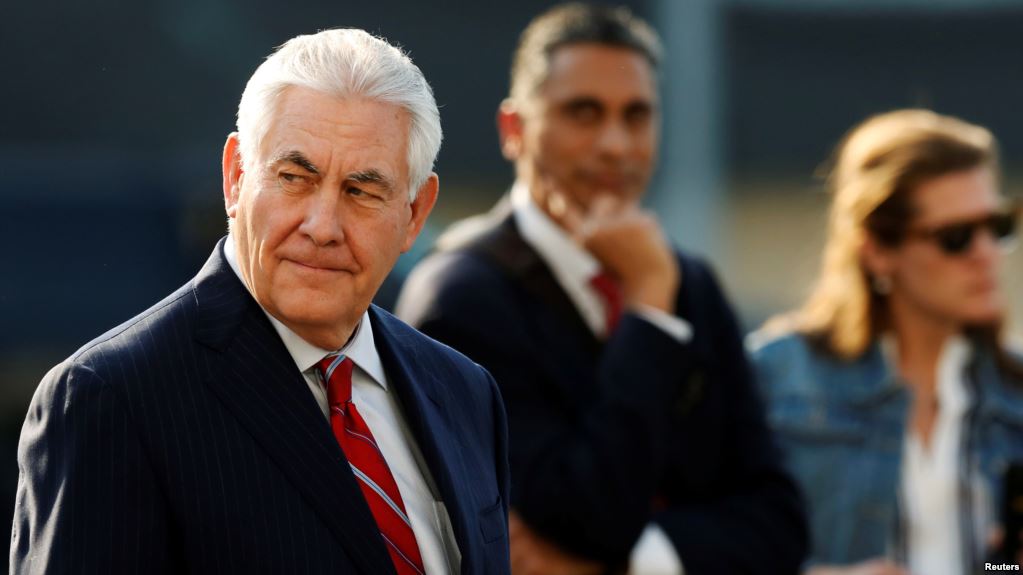 U.S. Secretary of State Rex Tillerson said today that the administration of U.S. President Donald Trump wants a "peaceful change" in Venezuela.
After his speech, Tillerson will head to Mexico City, Mexico.
Ahead of a diplomatic trip across the Western Hemisphere, Secretary of State Rex Tillerson outlined a foreign policy of economic growth, security and democratic governance to engage with the region he deemed a "priority" for the country.
"But it should come as no surprise that an agreement put into place 30 years ago, before the advent of the digital age and the digital economy, before China's rise as the world's second largest economy, that NAFTA would need to be modernized". Tillerson will be visiting Argentina and Peru on his Latin America tour, which begins late Thursday in Mexico and will end next week with stops in Colombia and Jamaica. Tillerson in November said he was offended by claims that the State Department was being hollowed out under Trump, saying it was functioning well despite scathing criticism from former American diplomats including Nicholas Burns and Ryan Crocker.
He also went on the offensive against the leftist government of Venezuela, once a rival center of influence for Latin American nations, now a political and economic basket case.
Tillerson insisted the Trump administration was not advocating "regime change" in Venezuela but said it would be "easiest" if Maduro chose to leave power on his own.
With the Colombian civil war officially over, a number of United States lawmakers have apparently claimed that former FARC guerrillas have now joined the ranks of the country's sizeable army of drug manufacturers and traffickers.
After visiting Buenos Aires and the Argentine mountain resort town of Bariloche, Tillerson is scheduled to meet in Lima with Peruvian President Pedro Pablo Kuczynski on various issues, including the eighth annual Summit of the Americas, which is to be held April 13-14 in Lima, Peru. "Ineffective and corrupt governments damage countries, the economy suffers, people lose faith in institutions and crime increases".
In his first year in office, President Trump has decried free trade with Mexico, US detente with Cuba, and warned of the dangers of drug gangs and illegal immigration.
"I think this will be a visit in which we'll be able to express and explain our concerns, to explain our limits, and also to try to maintain the dialogue and the communication which I think is extremely important to avoid unnecessary crisis", De la Mora said. According to a recent survey by Gallup, only 16 percent of Latin Americans approve of Trump's job and they expect relations to worsen rather than to improve.