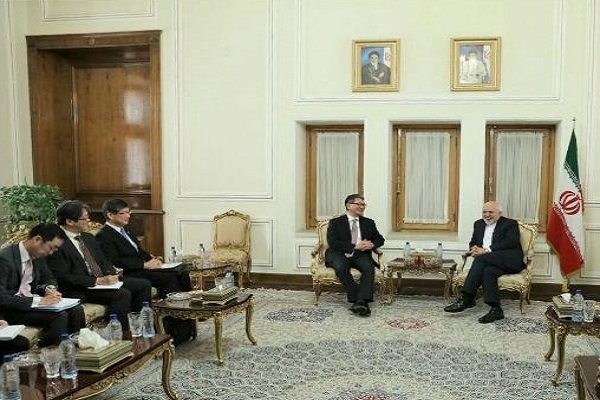 Jean-Yves Le Drian, France's Minister of Foreign Affairs, is now in Tehran.
Abbas Araghchi, Iran's deputy foreign minister, has claimed that there are no sunset clauses in the deal, and that Iran's commitment to ending its nuclear activity is permanent.
The deal, which doesn't cover Iran's missile program, requires the removal of anti-Iran sanctions in exchange for Iran stopping its military nuclear program.
"As of today, I can state that Iran is implementing its nuclear-related commitments" under the deal, International Atomic Energy Agency (IAEA) Director-General Yukiya Amano said in a speech opening a quarterly meeting of the IAEA's board of governors.
"It would be a point of regret for everyone" if the deal is not honored, Rouhani said, adding that his country is "ready to deal with any situation that is not agreeable to Iran".
"The condition for negotiations on Iran's missiles is the destruction of America's and Europe's nuclear weapons and long-range missiles".
The senior Iranian commander's remarks came on the same day that Ali Akbar Velayati, a senior adviser to Leader of the Islamic Revolution Ayatollah Seyyed Ali Khamenei on worldwide affairs, also said the Islamic Republic's defense program is no concern of other countries.
In 2017, France was Iran's second biggest trade partner in the European Union.
While French leaders, including President Emmanuel Macron, have criticized Iran's missile program, French companies like oil giant Total SA, carmaker Renault and airplane manufacturer Airbus have bullishly entered the Iranian market after the atomic accord, complicating any possible sanctions. On the eve of Le Drian's visit, Macron told Rouhani by phone that France expects Iran to make a "constructive contribution" to solving crises in the region.
Le Drian will also be pushing in his talks to have Tehran put pressure on the Syrian regime, a key ally, to end its devastating assault on the rebel enclave of Eastern Ghouta near Damascus.
"The potentials of the two countries is to a degree that if they work together closely, they will overcome the challenges and achieve good results", said Ali Larijani, the Speaker of Iranian Parliament.
The French Foreign Ministry told the AFP news agency that Le Drian informed Tehran that he is not speaking on behalf of Trump, but Le Drian will tell the Iranians that more needs to be done to address concerns over its missile program Tehran will face new sanctions.
Iran will boost its defensive power including the missile capabilities and its deterrent plan will not be affected by the political pressures, the Secretary of Iran's Supreme National Security Council Ali Shamkhani said.
He said that the primary condition for possible global negotiations on Iran's missiles is the destruction of nuclear weapons and long-range missiles that the U.S. and European nations have.
The commander further emphasized that nobody has the right to engage in talks with foreigners about the country's missile power.
Iranian senior officials on Monday called for collective resolve by the European countries to protect the Iranian nuclear deal reached in 2015.